Manjapathram Volume 4
Contents
1. Two more
2. Superwoman
3. Sreeni Mungi?
4. Bombay
5. Snippets
Two More
Two of our friends(incl. B'lore lekhakan) went to Thirupathi to attend our friend krishnan's marriage. And they reached there at 10 pm. It was cold and drizzling. After the initial rest, they went to a nearby restaurant Woodlands. They had two masala dosas. They liked it very much. Hence one of them(the "elder one") ordered to the waiter, " Two more." They were eagerly awaiting the arrival of the next batch of dosas since they were very hungry. And the waiter came back immediately. They thought, " Wow, what a service. We ordered just now and he is coming back very fast with the dosas." The waiter came and instead of the dosas he put two glasses of, guess what, "moru." Yes, our moru. Paavam lekhakanum friendum. They had to drink icecold "moru" in that cold night. They say it was good and that they knew it and hence ordered it knowingly. But we know the truth.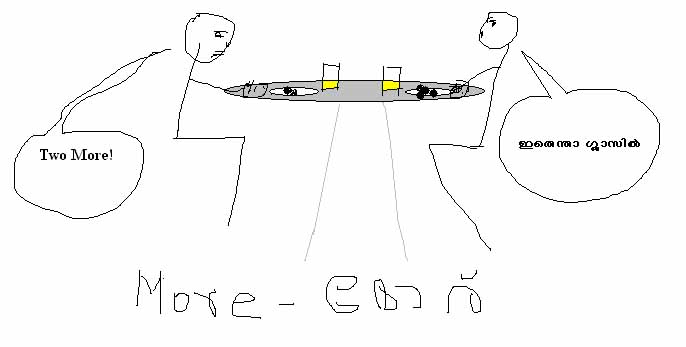 Superwoman


We got a report about a heroic activity by one of our female friend. As per the reports, she was in her home in Alwaye. And a "minnal" came closer to her brother. She got angry. Hum! Minnal attacking my brother. She got up, caught the "minnal" and threw it back to the sky. It got so afraid that my reporters from Kerala say that it didn't even strike any other place thinking that Kerala is full of such ladies. B'lore guys are very very happy now that she is back in b'lore.


Sreeni Mungi


Sreeni enna oru suhruthine patti kure naalayi oru vivaravum illa. Cigaratte kallakadathine thudarnnu(kooduthal vivarangalkku Manja vol 2 vaayikkuka) customs-kar pidichathano ennariyilla. Kallakadathine thudarnnu avideyulla mafia attack cheythennum samsaramundu. Paranja saadhanangal, paranja samayathu paranja aalkkarkku ethikkathathanathre kaaranam. Ee mafia sanghathe nayikkunnathu "Kakka" ennariyappedunna oruthananennariyunnu. Kakka-kku vendi kondu poya saadhanangal marichu vittathanathre ithinellam kaaranam. Ithellam porathe, madammamarude body kaanan vendi swimming pool-il chadiyappol mungiyo ennum oru samsayamundu. Kandu kittunnavar udane thanne aduthulla police station-ilo MP lekhakaneyo ariyikkuka.


Bombay


Bombay enna padam kure pravsyam kandathinallano ennariyilla, nammude kure friends Bombay-kku kudiyerukayaanu. Oruthi pakka bombay style-il(vivaham kazhichu kondu) aanathre pokunnathu(Ente vakkukal sathyamaavathirikkatte). Purake mattu randu perum Njangalkkivideninne pattiyillenkil avide chennittakam, ennanau ivar parayunnathu. Kooduthal vivarangal purake.


Snippets
SJ is going home on a long leave. Any plans now that the rest of them got married(see last issue)?
PK's parents coming to madras. They want to spy to find out why PK is refusing to get married.
KA still undecided. Expect more information soon.

---
Manja Main Page