Manjapathram Volume 3
Contents
3. Devi Sridevi, Thedi Varunnu Njan - A documentary
Dear Readers, The two close marriages prompted us to bring out a special supplement to the Manjapathram since we knew that our subscibers will be very much interested in getting it immediately. Thirupathi details will be more since our lekhakan was there to cover it. For the other one, we have only witnesses.
We are sad to inform that two of our friends got married and got themselves removed from the Bachelor's Club.
Bindu Thomas married Benoj on 27/11/97 at the Marthoma Church, Maraman.
Sujai Kumar married Sridevi at Thirupathi on 7/12/97.
We deeply mourn their loss of bachelorhood.
Devi Sridevi, Thedi Varunnu Njan
Deviye(moksham) kandethan valare sahikkanam ennu kettittundenkilum athithra prayasam aayirikkum ennu karuhiyatheyilla. Thirupathiyilethan petta prayasavum, athine thudarnnundaya sambhava vikasangalum aanu thazhe.
Ravile 5.30-inu(Valare naalukalkku sesham) ezhunnettu. 7 manikku Rly.Stn-il ethi. Thanne kathirunna (Girl!)Friend-ineyum kootti yathra thirichu. 7. 15-nu thirupathi bus-il kayari(oru chaya polum kudikkathe). Athikam thamassiyathe mazha thudangi. Rodethu, thodethu ennariyatha vazhi. Kundukal, kuzhikal, gutter-kal enniva onninu purake onnayi chadikkondirikkunnu. Alpam kazhinjappol atha vandi niruthunnu. Mumbil road block. Kudivellam kitthathinal vazhi thadanjirikkukayanathre. "Vellam Vellam Sarvathra, Thulli kudikkanillathre." Thanks to that we got some tea and snacks from the nearby shop. Ara manikkurinu shesham yathra thudarnnu. Veendum kuzhikal, kunnukal ..... Nadu piece-piece aayi kayyil kittum enna sthithi. Anthayalum Ezhara manikkur neenda yathrakku shesham Thirupathi ethi. Aduthulla stand-il ninnum thirumala bus pidichu avide ethi. Dosham parayaruthallo, road nallathayirunnu.
Avide ethi chuttum nokki. Onnum thanne kanmanilla. Kodamanju moodi kidakkunnathu kandappol lekhakanu pazhaya ethanum gaanangal orma vannu. Padi thudangiyappozhekkum manjinu manassilayi, pokunnathanu nallathennu. Odane manju poyi. Nalla mazhayathu 45 minute chutti. Avasanam 4 maniyodaduthu sthalam kandu pidichu. Avide 8(7+1) cheruppakkar nilkkunnu. Mattaraum illam. Sthalam athu thanneyalle ennoru samsayam. Appozhatha, athil oruthane evideyo kandu parichayam. Veendum veendum sookshichu nokki. Alla, ithu nammude JP alle(Rajesh KA farewell fame). JP paranju,"Hi, avararum ethiyittilla. 3 maninkku varum ellarum ennu paranjathanu. Njangal 1 1/2 mani muthal kathu nilkkukayanu." Njangalkkaswasamayi. Njangalekkal kooduthal sahichavarum undallo.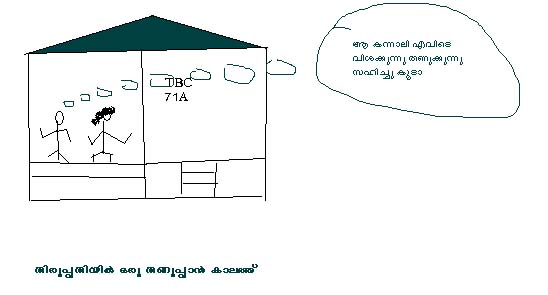 At around 4.30 sridevi's father came there. He arranged for a room. we arranged another room of our own. And we slept. Around 7.45 we took the dinner. Still no news of the groom. 9 pm. Still no news. We all went to sleep. Around 9.20 we heard a knock. "Knock Knock" "Who's there" It's me, Sujai" We started to tell all those nice words. He said, "you suffered only this much. Think of us. We started yesterday evening and reached here today evening".
Next day early morning jeep came, reached the place. There we met the Bangalore lekhakan. The function started around 4 am. Sujai was wearing a silk jubba & mundu. Then he wore a "kireedam". And a beauty spot(?) on the cheek. Looked exactly like a "Sri Krishna". We know that he was one, but hope at least after the marriage he won't continue. Then at last Devi came. Bhakthan was happy. They sat in the mandapam. Usual programs in the Telugu style with Sarkkara paavu, rice etc. And there was a function to pray to the sun. They managed to do it with the Neon lamp since the sun was unavailable after a blackout by the clouds.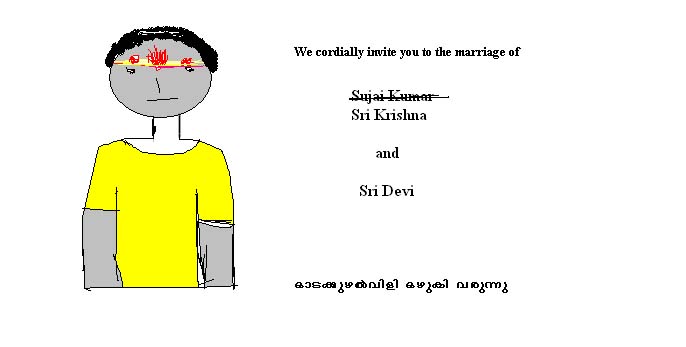 Had our Devi-Darshanam after sometime. Seemed to be talkative. May be b'cos she is in HR. Hope she won't shut his mouth by becoming the "spokeswoman" of the house. And after meeting her, we knew that he cannot continue to be "sri krishna or hitler!"
Had a breakfast sponsered by Devi(Dinner also was). The Madras lekhakan took 2 plates of Pongal-Vada in the traditional Paandi style. Started back at 8 am. Reached Thirupathi at 9.30. Had another breakfast. Got into the bus at 11.30. Journey was uneventful. Reached Madras at 4.30. ie in 5 hrs, the usual time taken.
That should have been b'cos the devi-darshanam was over. And I was singing the song over and over thinking about the "devi-mahathmyam."
Unfortunately, we don't have any details of the function. It was not well attended by our friends. Only PGS, MK & Smitha and Francis attended. He should have left for Bombay this sunday with his heart in TVM. They were in TVM for two-three days, we heard. Her current attittude is found to be diagonally opposite to her stand earlier. And she was found to be happy. More news on this earlier.
Sreeni asked Shiji, "Your husband is getting married on Dec 7. Your husband's lover already got married. And your daughter is getting married soon. When are you getting married?"
---
Manja Main Page